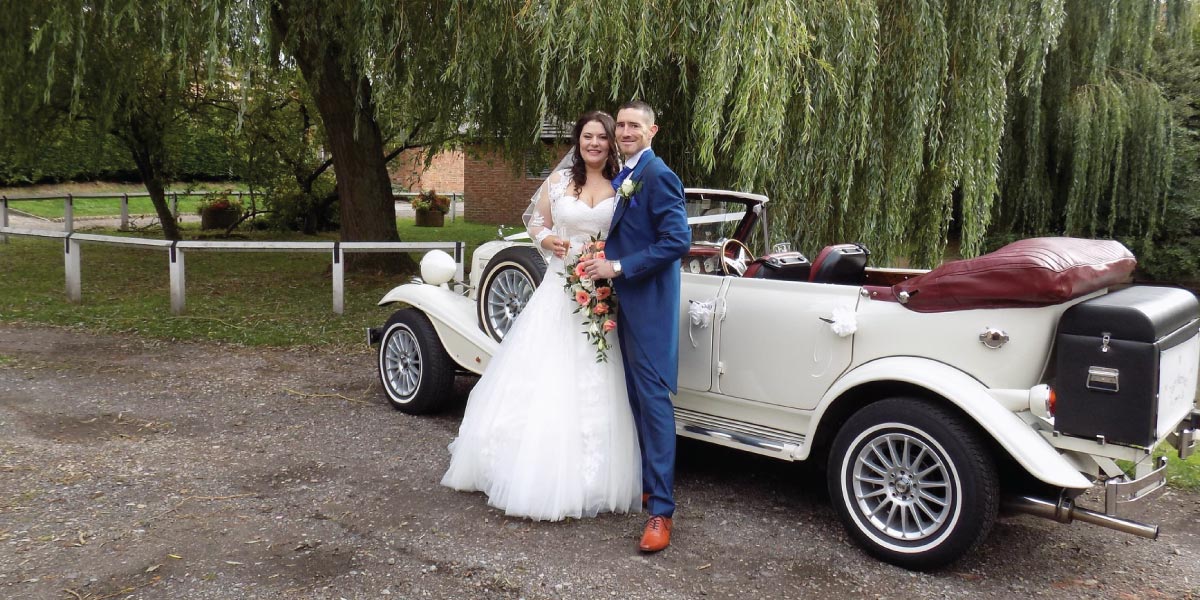 Testimonials
Every year we have the privilege to work with hundreds of brides and grooms. We take a personal pride in going the extra mile to make sure your day is as special as can be. We regularly receive feedback through facebook which can also be seen here.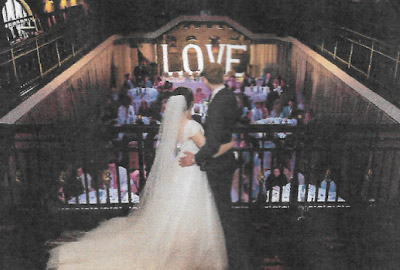 Thank you for your card and kind wishes on our wedding day. We had a fantasic day. We really appreciate you being our chauffeur. The spot on the river you reccomended was perfect and we got some great pictures.
Rob & Amy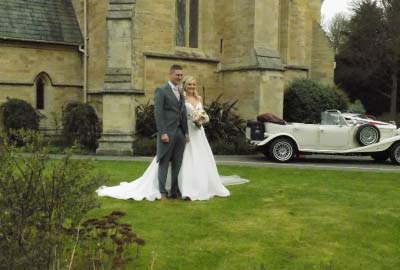 We just wanted to thank you for getting us from A to B on our wedding day & for talking some of the best photos on the day.
Laura & Rich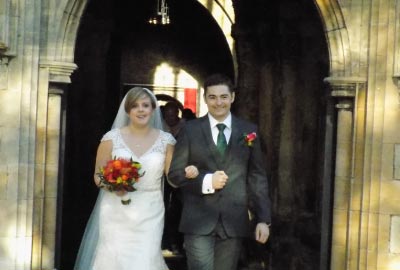 I just wanted to say thanks for your efforts last Saturday. You were very understanding when our timings went a little awry, and you had thought of every little detail to make our journey as enjoyable as possible. Thanks again,
Katie and Dave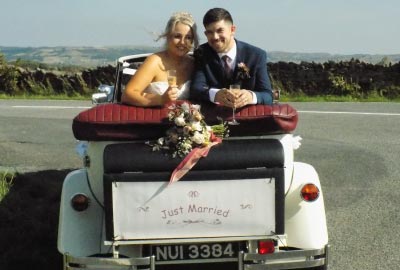 Brilliant photos David, you were fantastic yesterday and we loved your car made our day extra special thanks for everything, love the photos!
Amy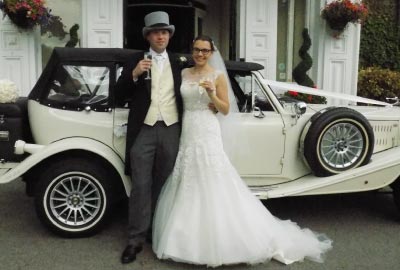 We had a fabulous service from David on our wedding day. The car is gorgeous and the drive around just the two of us after the ceremony was so special – definitely one of the highlights of our day! David was so laid back, making us feel at ease and helping us to just relax and enjoy our special day. He also took some beautiful photo that we will cherish forever. A wonderful, personal service. Would definitely recommend! Thank you again
Eryn and Ben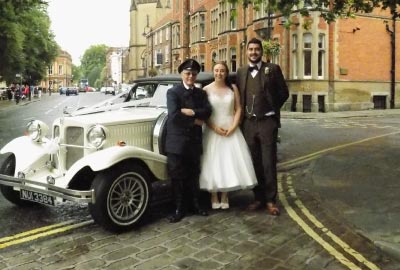 David was absolutely fantastic on our wedding day – the car is simply beautiful and his attention to detail was wonderful! He helped us out from the very start of the process, responding quickly to our messages and queries and even thinking about locations for our drive out. The pictures he took were lovely and we really cherished the peace and quiet we had on our drive out. We would highly recommend to anyone! Thank you David!
Ruth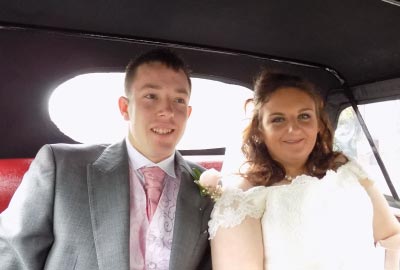 I would like to thank you for helping make Lucy and Olivers Wedding Day on Saturday such a special day. You have been helpful and courteous. The car is lovely. I will be recommending you to anyone getting married. x
Trina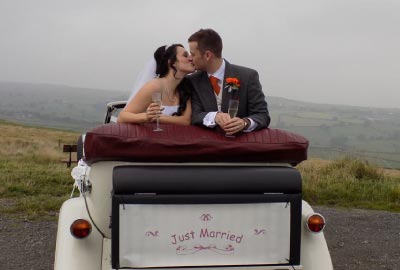 Hi David, Luke and I just wanted to say a huge thank you for being part of our wedding day. Your car is absolutely fantastic and ever since the first time we laid eyes on it at a wedding fair we were over the moon to have it booked for our special day. In addition to a stunning car your attention to detail was fantastic. You really have thought about all the little details that others tend to forget. I cannot recommend you to others enough. All the best!
Emma-Jayne and Luke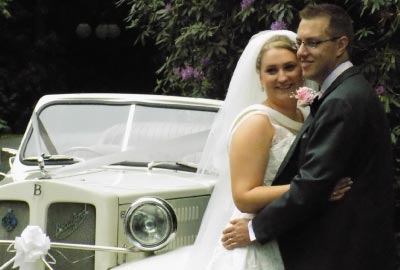 Thank you so much for driving me to my wedding yesterday. The car is fantastic and we couldn't asked for a better driver.
Jemma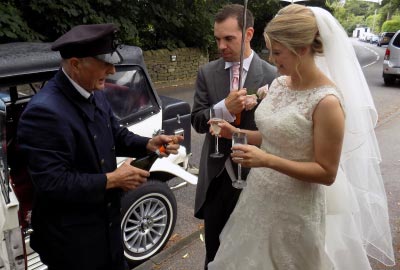 Dear David, Thank you so much for your magnificent work on Saturday! They loved you and your car and your were so professional yet so kind. Gemma says she will send you one of Karen's photos once they get them back with a testimonial. Thanks once again
Debby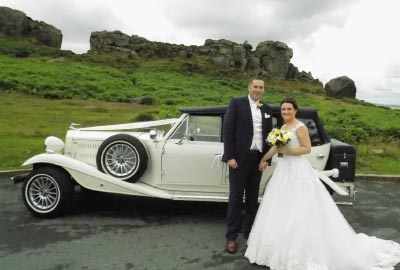 Thank you David for helping to make it the most special day of our lives. x
Laura & Paul
Dear David, I just want to say a big thankyou for driving me & my bridesmaids to East Riddlesden on the 28th March. You went out of your way to help us enjoy our ride & I enjoyed it so much I felt incredibly relaxed & had no nerves when I arrived! Your car is beautiful & you are the best driver a bride could wish for; the day wouldn't have been the same without you.
Gwynneth
Good afternoon David, Myself and Jonathan have just returned from our honeymoon this week and we would just like to say a massive thank you to you for your services on our wedding day. The car was beautiful and your service was outstanding at every moment from your first arrival to your departure from Cedar Court. Thank you once again for the part you played in our special day.
Lucy and Jonathan
Hi David, just wanted to say a big thank you from the bottom of my heart for all your thoughtfulness at Laura and Nigels wedding. The car was wonderful and you were so caring with us all. Many Thanks again
Faye Chilton xx
Thank you very much for providing a fantastic wedding car service to us on Friday 16th August. You went above and beyond to help us on the day and travelling in your car was a fun experience!
Craig and Laura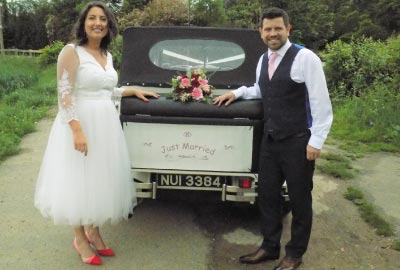 Lovely photos David. Thank you again for a wonderful trip!
Sallie & Chris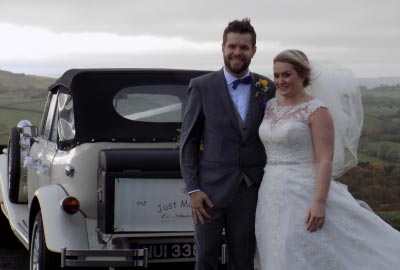 Thank you very much for your services and photographs, they look brilliant x
Joanne & Yuri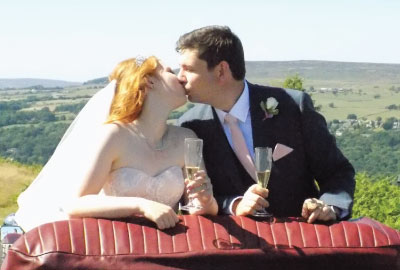 I can't recommend David enough! He was so lovely, friendly and professional and his car is beautiful The photos he took of our day are brilliant and he really made our journey from the church to the reception venue special! Thanks so much David
Danielle & Mathew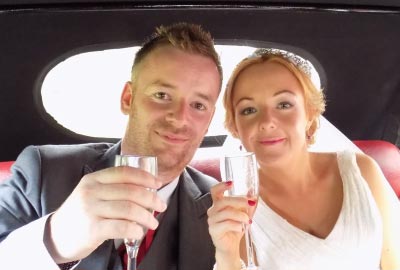 To Dave, Thank you so much for everything you did our wedding day and for keeping me calm when the Registrars didn't turn up. We appreciate all you did and your car is beautiful.
Lauren, Dave & Penny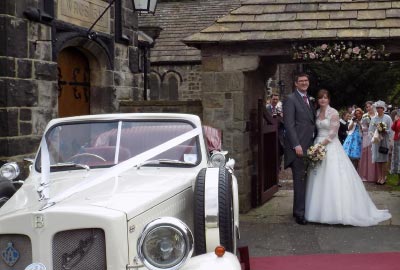 Dear David, Thank you for making the wedding of our daughter Sam to Andy such a wonderful event. Thank you also for the lovely photos. You are a talented photographer. It all made the 29th April very special. Warm Regards
Pat & Ken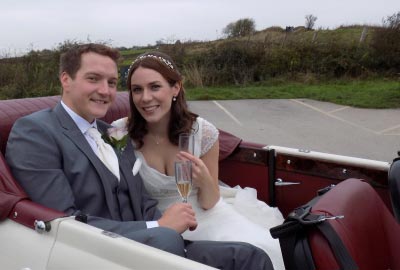 We booked David for our wedding back in June and have to say just how fantastic the service was. David arrived early allowing plenty of time for photos at the house. He chilled our champagne whilst we were in the church and then greeted us with a glass of bubbly on our exit from the church. He let us have some time alone stopping off on the way to the venue allowing us some time to take everything in. The car itself is lovely but is the caring and kind nature of David and his attention to detail that makes his service stand out. He even had a hair net and a blanket to look after me on the way to the venue. I would have no hesitation in recommending him to anyone who is getting married!
Sarah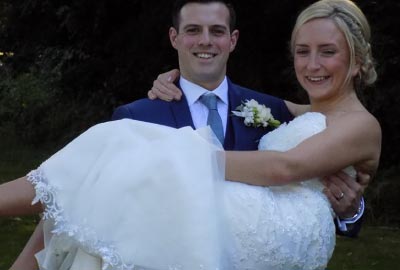 Hi David, Just a quick message to say thank you very much for driving us to & from our wedding on 2/10/15. The car was stunning, we were so lucky to get to drive with the roof down & your tiny details such as ice bucket & glasses, the head scarf & blanket & umbrella (just in case) made it extra special. Thank You!
Grace & David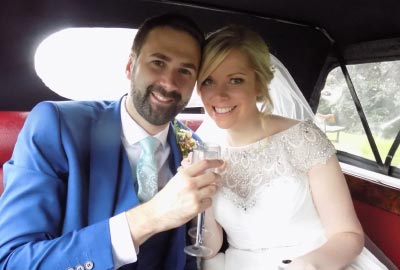 Thank you so much David! These pictures are wonderful! Thank you for being part of our special day.
Joanne & Richard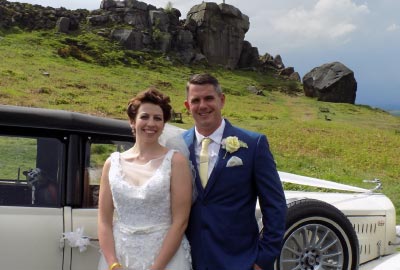 Thank you David, we had a wonderful day. Here's a few pictures taken by our photographer of your fabulous car.
Jenny & Kieran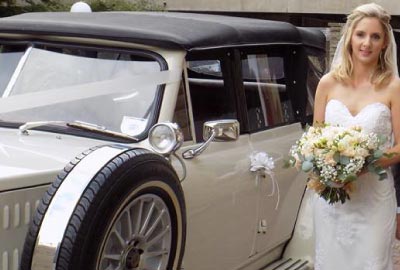 Hi David, Thank you so much for doing such a fantastic job on Saturday. We loved arriving at East Riddlesden Hall in style! The photos are great and everyone commented on how stunning the car was! Thanks again Carlie.
Carlie
Hi David I hope you are well you drove me and my wife after our wedding last May we would love to write a review for you as you were lovely and really appreciate everything you did for us.
Lucy
Hi David, Firstly, huge apologies that this email is so late! Time has just flown by since the wedding! We just wanted to write to say a massive thank you for the services you provided on our Wedding Day. The car was so beautiful and the service you provided from the moment of pick-up to taking us to the Coniston Hotel was outstanding. So many of our guests commented on how lovely all the personal touches were, from the red carpet to the 'Just Married' sign. We would highly recommend you to anybody looking for a wedding car.
Emma and Rob Xxx
Good morning David, I just wanted to say a huge thank you for Saturday, you were amazing and made our day so special. Thanks again we had such a wonderful day
Maxine & Aaron
Good morning Dear David, Thank you for being our man of the moment on our very "Special" day!
Lowis & Hodkinson families. xx
David, Thank you for providing your car for our wedding. The car is beautiful and the service you provide very personal. Despite the wet weather we had a lovely day. Thanks again.
Vicky & Stuart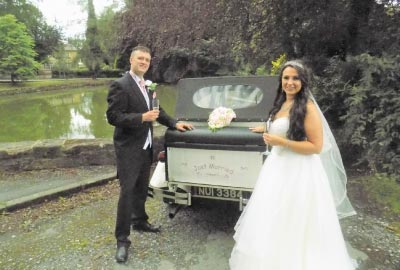 We can't thank you enough! You made our day very special in a very beautiful car. Xx
Victoria & Robert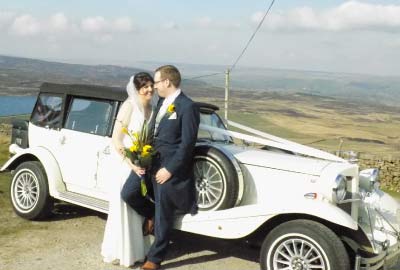 Thank you so much for everything you did to make our wedding day run so smoothly. Thank you for the amazing pictures to took, we really like them :)
Jonathan & Rachael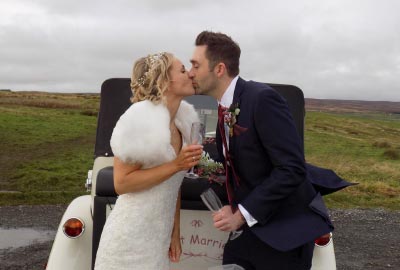 Thank you again for yesterday, your pictures are fantastic!
Helen & James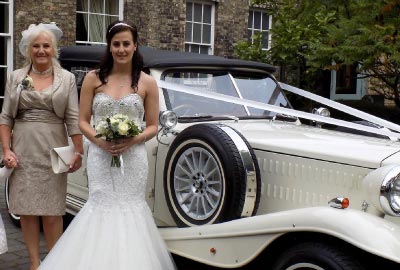 Hi David, Thanks very much for today! Everyone loved the car! Excellent Service!! We've had such a lovely day. Thanks again!
Becky & John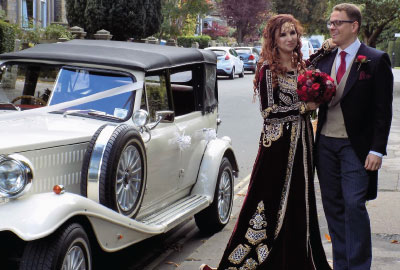 David, Thanks so much for sending those lovely pictures through - you really captured some fantastic shots. Can I take this opportunity to thank you for helping to make our wedding day extra special. From the start you went that extra mile to advise based on your extensive local experience and you helped us plan the day with Catherine our photographer to make the most of the local photo opportunities. Nora, her mum and dad particularly enjoyed the ride with you from Leeds - it was her parents first time visiting from Switzerland and they really appreciated your friendliness, professionalism, and pointing out local scenes. We really felt that you were a friend, passionate about what you do, and your involvement certainly contributed to making the day extra special for us, full of wonderful memories.
Dean & Nora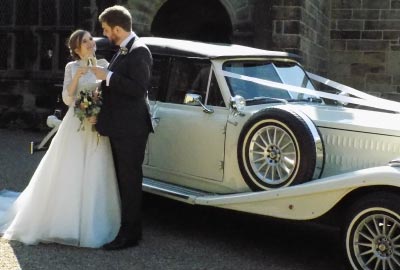 Thanks David. You were brilliant and we love the pictures!
Katie & Tim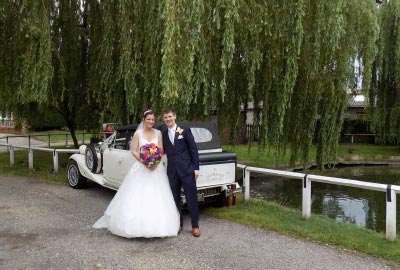 Thank you David! Lovely photos.
Emma & Wayne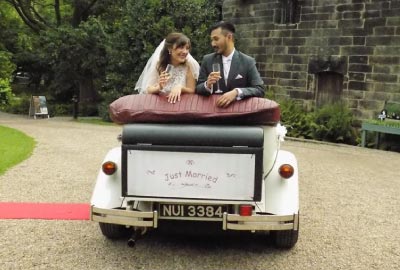 Thanks David, beautiful pictures and you were absolutely brilliant. Kelly's Dad.
Kelly & Kenichi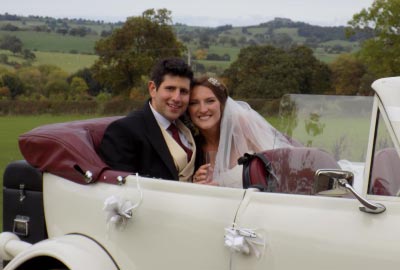 Thanks David-we enjoyed the whole experience- Thank you.
Jessica & Mark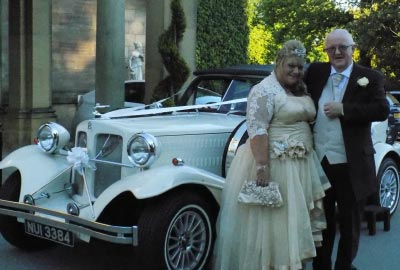 Amazing day topped off by the special attention to detail from David and his beautiful car. xx
Derrian & Trevor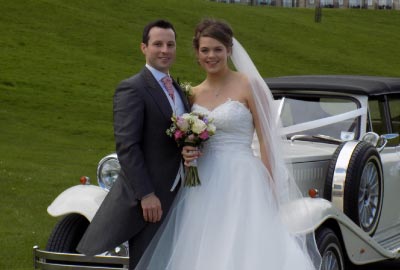 Thanks for sending the picture, it is lovely. Thank you very much for your excellent service on our wedding day, the car was absolutlely beautiful and it helped put the finishing touch to our special day. You put us both at ease and made it a pleasent, relaxing journey from the church to the venue. Thanks also for all the added extras, ie blankets for cold winds and mirrors to check our hair! We couldn't have asked for anything more.
Rachael and Steven
Dear David, Many thanks for driving Jes & Bill to church on Saturday with a special thanks for driving Jes & Mark in your beautiful car back to the house, they loved it! The photos are lovely and I especially like the one with a view of Almscliffe Crag behind!
Many thanks, Anne-Marie.
Dear David, I would just like to personally thank you for the amazing service you provided for Lucy & Jonny's wedding (2.8.14). You Played a huge part in making the day a day to remember.
Lucy's Mum
Hi David, We would just like to say a huge thank you to you! We loved the car and the horn. You were so professional and so patient when the photo's took longer than expected. So many people asked which company the car was from and believe me I won't hesitate in recommending you. I am so pleased that the weather was nice enough to have the roof down. When my photo's come back in a few weeks I will be sure to send you one. Thanks again
Mr and Mrs Jones
Dear David, Thank you very much for your services on Saturday 20th April when you drove my daughter Sophie to her wedding with her father and then on to the reception with her husband, Carl. We were all absolutely delighted with the car and everything you offered. You were very kind and sensitive to the needs of everyone involved. The car was a wonderful surprise for Sophie and Carl who had no idea what the transport arrangements were going to be. We will all pass on our recommendations to anyone we know. Many, many Thanks.
Mrs Hilary Iles
More Info